Acquisitions
ForeSight Consulting James D. Burlage Associates
James D. Burlage Associates celebrated its merger with ForeSight Consulting, LLC effective June 1st, 2016.
James D. Burlage Associates was founded in 1987 in Columbia City, Indiana by James D. Burlage a local professional surveyor. Mr. Burlage, a former Steuben County resident and graduate of Fremont High School, soon had a growing client base in the Steuben County area, and soon moved his business operations to 712 North Wayne Street in Angola, Indiana.
During his thirty-three years in private surveying practice, Mr. Burlage developed a sterling reputation for impeccable quality, a deep knowledge and understanding of the legal principles applicable to boundary surveying, and as a valuable resource to the local community. The firm focused extensively on boundary surveying, with the majority of their work related to the often complicated and involved lake properties throughout northeastern Indiana. In total, James D. Burlage Associates completed nearly 8,000 surveys, including several surveys associated with boundary disputes, litigation, and resolution.
In the early summer of 2015, after a successful career in the private sector, Mr. Burlage began to investigate a transition plan in light of his upcoming retirement. His focus was to find a firm to with the same professional focus, integrity and quality…..one that could be entrusted with his clientele, reputation and legacy. In August of 2015 ForeSight Consulting, LLC purchased the business assets of James D. Burlage Associates, including the records and files, and Mr. Burlage was employed with the firm during the ownership transition through June of 2016. Mr. Burlage is now happily retired, and living in the Columbia City, Indiana area.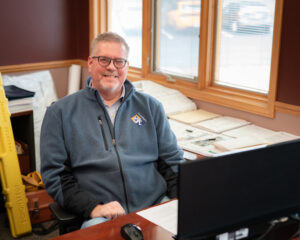 ForeSight Consulting, LLC, is a professional civil engineering and surveying firm headquartered in Fort Wayne, Indiana. ForeSight has had the privilege to be involved in numerous residential, multi-family, commercial, educational and industrial projects throughout northeastern and central Indiana.  Our focus is to do the right thing for the customer, and to do so to the best of our abilities.  We implement the latest technology, but never lose sight of the underlying foundations and history of the civil engineering and land surveying professions in order to deliver the results our clients deserve and expect.  For your next project, call the firm with more local knowledge and experience than anyone else—call ForeSight Consulting, LLC.
Understand and maximize the use of your land.