Acquisitions
ForeSight Consulting Acquires Sexton & Associates
Sexton & Associates Celebrated a Merger With ForeSight Consulting, LLC Effective July 1st, 2020
Sexton & Associates was founded in 1984 by Randy Sexton an Indiana licensed professional surveyor.  Mr. Sexton, a life-long Noble County resident and Purdue University graduate, opened his business in Kendallville, Indiana and began providing professional surveying services to the local communities.  In the mid 1990's the firm relocated to an Albion, Indiana office just east of the courthouse square.
During his thirty-six years in private practice, Mr. Sexton had the opportunity to contribute to the growth and development of his hometown and completed numerous projects in the local community.  At its height, Sexton and Associates had both a LaGrange, Indiana and Albion, Indiana office, employed over ten people, operating two survey field crews with numerous professional surveyors on staff.  Projects ranged from boundary surveys to single lot residential minor plats, residential developments, commercial and industrial projects as well as municipal infrastructure projects. The firm was a staple in the local communities, and contributed to the growth and development of the communities it served.
In the late spring of 2020, after a successful career in the private sector, Mr. Sexton made the decision to focus entirely upon his public services duties as Noble County Surveyor, and was in the market for a successor.  Mr. Sexton was focused on finding a firm to which he could entrust his long-term clientele with the same professional focus, integrity and quality that would carry on his reputation and legacy.  Ultimately, Mr. Sexton contacted ForeSight Consulting, LLC based upon their reputation for quality, integrity and innovation, and their prior acquisition experience in surveying and engineering marketplace.  On July 1st, 2020, ForeSight Consulting, LLC acquired the business assets of Sexton & Associations, including their records and files, and expanded their service area for professional services.
ForeSight Consulting expands its regional presence with thoughtful acquisition that delivers on its value promise
For Todd Bauer, president of ForeSight Consulting, success means being able to offer a quality product to more people. "My end goal is to be a regional resource," says Bauer. "We deliver a high-quality product and a depth of experience that we want to continue to grow."
Part of Bauer's growth strategy includes thoughtful acquisition. When an established surveying firm with a similar professional philosophy is ready to sell, Bauer is ready to talk.
Recently Bauer found a match in Sexton & Associates in Noble County. After more than 35 years in business, the company's founder was ready to focus on other commitments. He approached Bauer, who immediately realized that Sexton & Associates would be a good fit for ForeSight Consulting.
Bauer explains, "Sexton was well established, did good quality work, and had a good reputation in the area. And though we already enjoyed a presence in Noble County, this enhances our opportunity to serve that community better."
He feels honored to be able to carry on Sexton's work, while also enhancing it with technology upgrades, improved communication, and civil engineering services.
"For someone to hand off his work product, it's really a statement of trust," says Bauer. "Most of his adult professional career was put into this business."
Records play a huge role when Bauer evaluates the 'fit' of a particular company. Surveys, research notes, land records, and other documentation give ForeSight a foundation from which to build and help ensure consistency over time. Bauer is not interested in simply buying market share; he wants to acquire knowledge.
"If we have the records, we already have a foundation to start from," says Bauer. "Then there's consistency and we can be less disruptive. It always allows us to get things done faster when we have the original records."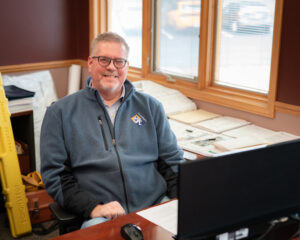 ForeSight Consulting, LLC, is a professional civil engineering and surveying firm headquartered in Fort Wayne, Indiana. ForeSight has had the privilege to be involved in numerous residential, multi-family, commercial, educational and industrial projects throughout northeastern and central Indiana.  Our focus is to do the right thing for the customer, and to do so to the best of our abilities.  We implement the latest technology, but never lose sight of the underlying foundations and history of the civil engineering and land surveying professions in order to deliver the results our clients deserve and expect.  For your next project, call the firm with more local knowledge and experience than anyone else—call ForeSight Consulting, LLC.
Understand and maximize the use of your land.